South Island Adventure with Wilderness Motorhomes
I've lived in the South Island nearly all my life and must've racked up tens of thousands of kilometres
exploring and photographing nearly every nook and cranny. And yet with every road trip I become as excited and awe-inspired as a first-time tourist. I think that's probably down to our massive diversity in scenery , weather, and seasonal variation, so that no two trips are ever the same.
Adding to my anticipation levels on this adventure was the opportunity to travel by motorhome, something I hadn't done since I was a kid. So many fond childhood memories of exploring unknown places and spending time among New Zealand's natural wonders.
So you can just imagine my excitement levels when I pulled out of the Wilderness NZ base in Christchurch in the Outback 4 to head off on a 4-day circuit taking in Haast, Queenstown and Mt Cook. With a total distance of around 1,300km that represents a lot of road time, but with my main focus on photographing sunrise and sunset, the daytime travel didn't bother me at all.
I set out in bluebird conditions and made the first leg of my journey across Arthur's Pass.
For most of the day the weather was perfect (too perfect for landscape photography – yes, there is such a thing!), although by the time I got to Fox Glacier cloud was starting to cloak the Southern Alps. With the sky still looking relatively clear out west, prime conditions were forming for the setting sun to light up the mountains. So I parked up at Lake Matheson and made a quick dash into the lake, and thankfully my prediction panned out.
After a quick dinner back at Fox Glacier village I continued south and parked up for the night near Haast. By now the rain had set in and the temperature had dropped to close to freezing. Here for the first time I experienced the luxury that is the Outback 4's LPG heating system. Jumping into a warm bed in the middle of nowhere and dropping off to sleep while listening to the pitter patter of rain on the roof – pure bliss!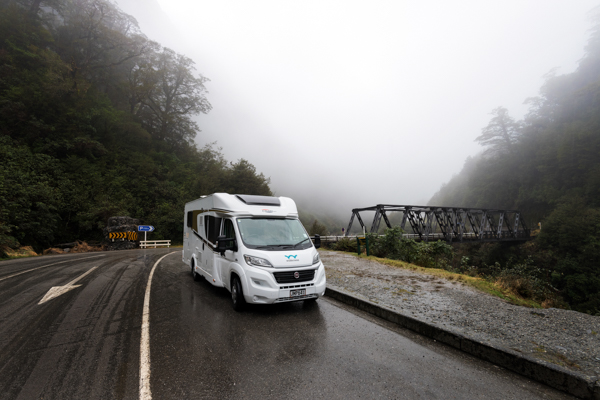 Continuing rain the following morning didn't stop me heading out for a couple of walks in the Haast Pass area (the trip into the Blue Pools is thoroughly recommended). By the time I reached Queenstown, via Wanaka and the Crown Range, the weather had cleared and I spent an amazing night parked at Lake Hayes under a million sparkling stars.
The following day I spent some time in the Queenstown area before making my northwards to Mt Cook. That night, as the temperature dropped once again below zero, I was again incredibly thankful for the camper's heating system. By now my laptop and camera batteries were also running low, so the ability to plug them directly into a 240V supply (run by a dedicated battery on board the vehicle) was an amazing feature.
Day 4 dawns and it's time to make my way back to Christchurch. But not before heading to Tasman Lake to catch what turned out to be the most spectacular sunrise of the trip. I'll take cold temperatures any day of the week if it results in conditions like this!
As I headed for home I stopped at the popupar Peter's Lookout, which provides commanding views across Lake Pukaki and back to Mt Cook. I nabbed this shot of fellow photographer Rachel Stewart, who was also out and about on a trip in a Wilderness Motorhome.
This trip reinforced to me just how lucky I am to live in the South Island, and what a privilege it is to capture imagery which I hope inspires others to stay connected and in love with our natural world. A special thanks to Wilderness NZ for providing an experience which made me feel like a kid all over again!