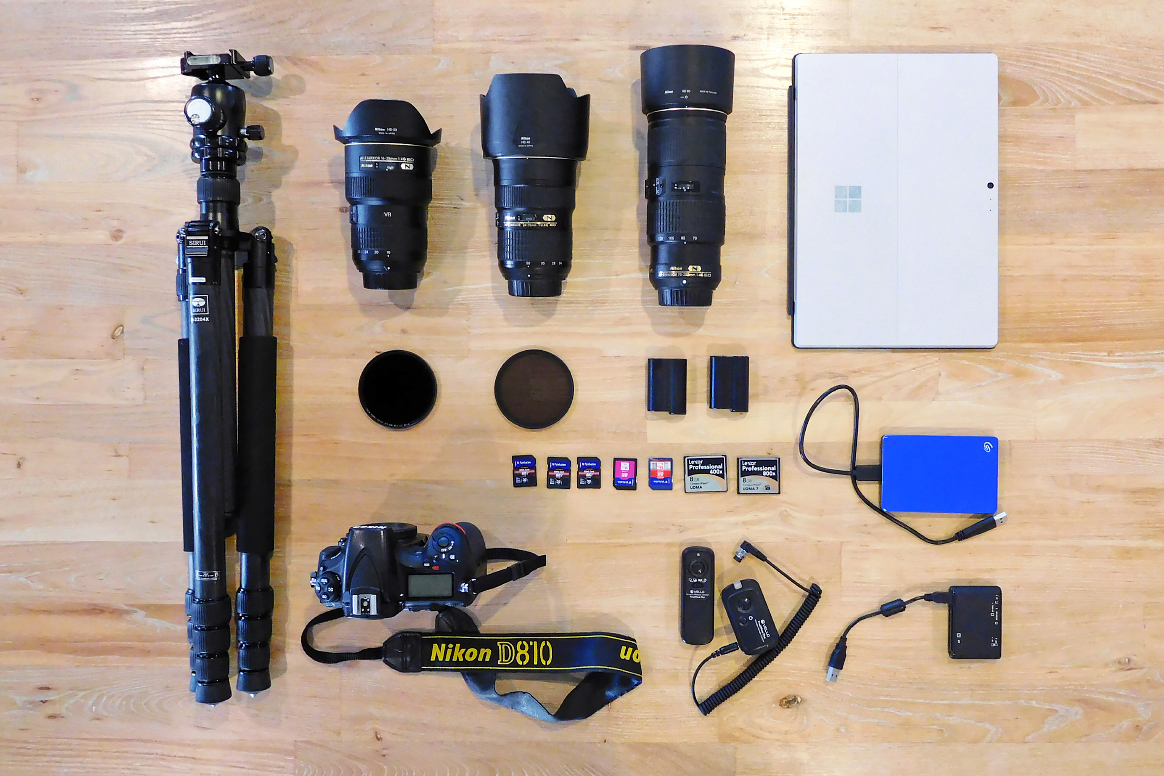 Nikon D810 DSLR.  Records 36.3 million pixels (7360 x 4912) with RAW file sizes of around 30-40 MB each.  I looove the detail and dynamic range the camera provides!
AF-S Nikkor 70-200mm f/4G ED VR.  My most recently purchased lens.  The ability to get in closer and 'compress' the landscape has opened up a lot of creative opportunities!
AF-S Nikkor 16-35mm f/4G ED VR.  Takes care of all my wide-angle needs.  Has a 77mm thread which means I can easily share filters with the 24-70mm.
AF-S Nikkor 24-70mm F2.8G ED.  Probably the lens that's on my camera most often, with the zoom range covering a multitude of situations.
Surui N-2204-X Tripod and Surui K-30X ball head.  A great lightweight carbon-fibre setup (1.8kg) which is plenty sturdy enough for all occasions.
Filters.  B+W 77mm MRC Solid Neutral Density 3.0 Filter (10 Stop) and B+W 77mm MRC Solid Neutral Density 1.8 Filter (6 Stop) for long exposures.  Marumi 77mm Circular Polariser Super DHG for reducing glare and reflections.  I use a step-up ring to attach the 77mm filters to the 67mm thread on the 70-200mm lens.
Microsoft Surface Pro 4 i5 256GB Tablet.  Used whenever I'm editing on the road and/or want a second storage backup option (via a Seagate 1 Gb portable hard drive).
Remote timer.  Vello Freewave Plus Wireless Remote Control.  Used for longer exposures, especially those over 30 seconds (bulb mode).  Oh, and for selfies!
Bag.  My camera and whatever lens is attached at the time is carried around in a Lowepro Toploader 55AW.  My other two lenses, plus filters and batteries, get put into a Lowepro Adventura SH160.  That, and everything else, is then usually bundled into a Macpac tramping or day pack along with everything else I need to survive!
Other bits and pieces.  Filter cloths, allen key (for tightening camera quick release plate), two spare camera batteries, multiple SD and CF memory cards, battery and laptop chargers, etc.