A Brief Guide to the Routeburn Track
Of all the Great Walks in New Zealand, I reckon this might be the best one
When I first walked the Routeburn Track back in May 2003, digital cameras weren't much of a thing.  We borrowed someone else's new fandangled Sony DSC-P8, a 3.2 megapixel ultra-compact into which we loaded a gargantuan 64 Mb memory card.  We took a grand total of 26 images 😂.
Highlights from the Routeburn Track, 2003
Ultimately I don't need any photographs to remind me how utterly epic this landscape is.  Forever etched in my mind was this amazing cross-section of both Fiordland and Mt Aspiring National Parks, the homes of glacially-sculpted mountains, alpine lakes, and lush rainforest.  I knew I'd be back one day.
In April 2021, with my family in tow, I walked it again.  Twice!
The Routeburn Track is typically completed over 3 days / 2 nights.  The start and end points, respectively at the Routeburn Shelter and The Divide Shelter, are located some 338 km / 4.5 hours drive apart.  Most people organise transportation of some sort (e.g. Trips and Tramps) to help with the transfers.
In 2003, we linked in another couple of days on the beautiful Caples Track (making a 5-day trip in total), as that brought the start and end points much closer together (only 28 km apart).
In 2021, we elected to walk the track starting at the Routeburn Shelter, and then retrace our steps back to our car.   Hence walking it twice.  This involved one night at Routeburn Falls Hut, 2 nights at Lake Mackenzie Hut, and then another night back at Routeburn Falls Hut.  We had intended walking the section of track from Lake Mackenzie Hut to The Divide Shelter (and return) as a day walk during our stay at Lake Mackenzie, however, torrential rain resulted in a comfortable day in the hut playing cards instead.
The track is 33 km (one way) and is, as far as a New Zealand tramping trip goes, fairly easy and straightforward.   My 14 and 12 year old kids had absolutely no trouble at all, carrying all their gear with barely a moan (well, maybe there were just a few complaints…).
The key caveat to it being "easy" is the weather, as in adverse conditions, this trip can turn into an altogether different beast.   The track spends some prolonged time above the bushline and as such is exposed to the elements.  In particular the off-season period (May to November) is generally off-limits to all but the very fit and experienced, with ice, deep snow and short daylight hours being among the various hazards.  The Department of Conservation (DoC) also remove many of the bridges during the winter period due to the risk of them being destroyed by avalanches.
There are a huge number of resources out there on "how to" and what to expect, so I needn't repeat those here.  In particular I suggest checking out the official source on the DoC website .  Also check out the NZ Mountain Safety Council's informative video (below).
Lastly, make sure you book early.  Bookings for the upcoming walking season (November to April) come online typically in the preceding June.  Bunks sell out very quickly so be sure to book well in advance for your preferred dates.
Without further ado, here are some of my images from the remarkable Routeburn Track.  Hope you enjoy.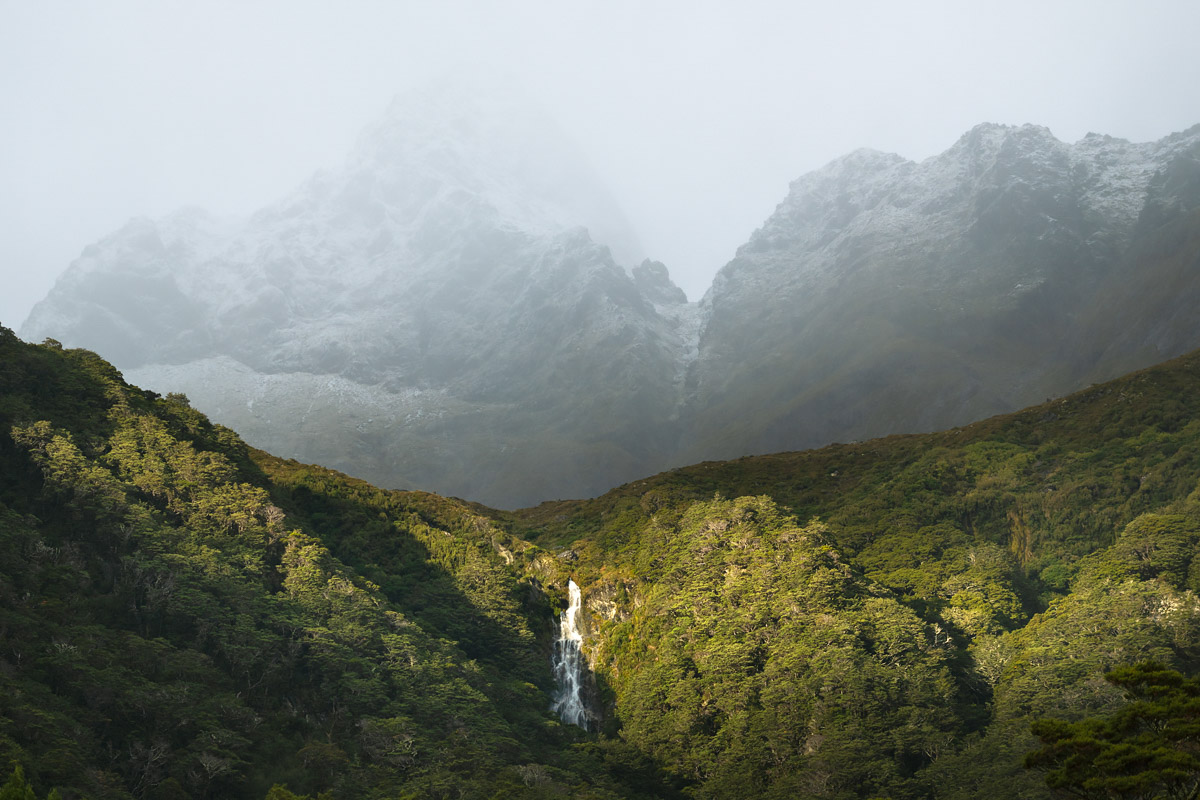 Behind Routeburn Falls Hut, captured after an overnight dusting of snow
Approaching Harris Saddle Shelter (1,250m)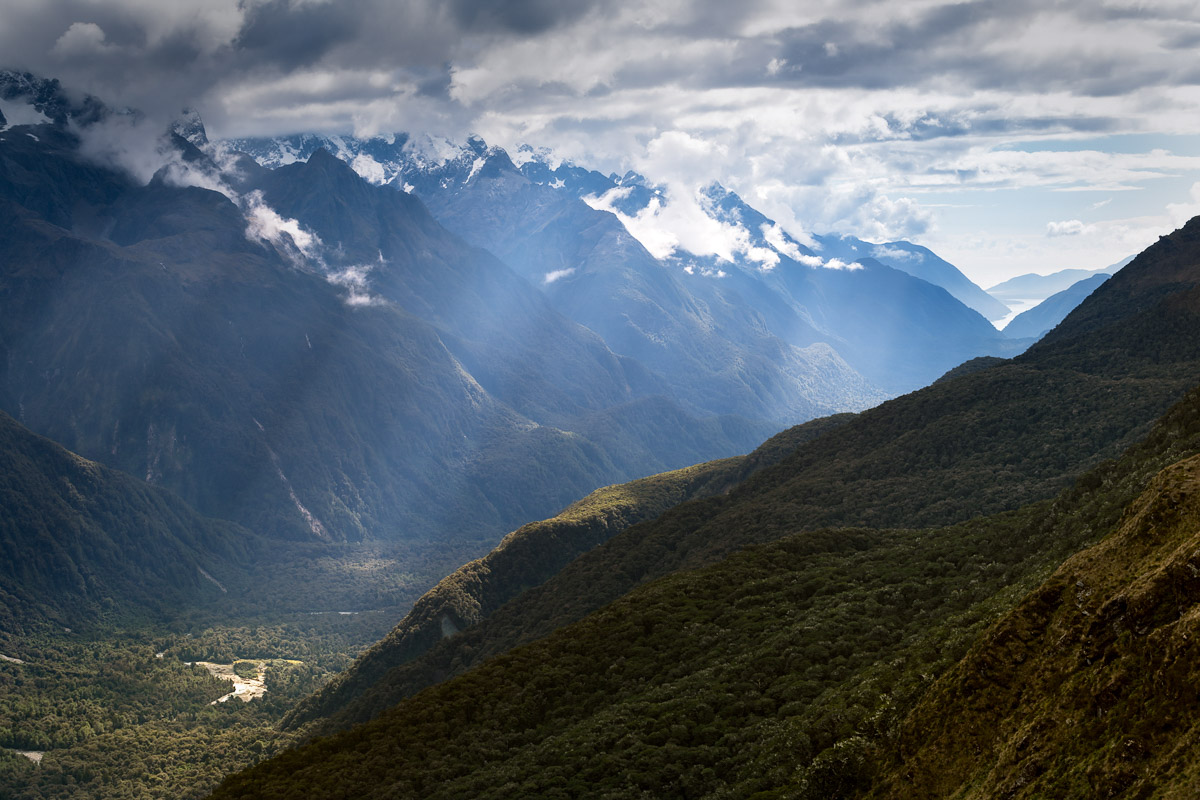 The view down the Hollyford Valley, with Lake McKerrow / Whakatipu Waitai and the Tasman Sea glistening in the distance
The Darran Mountains of Fiordland National Park, viewed from the Hollyford Face of the track
Lake Mackenzie with a sunlit Emily Peak (1,815m)
Later that evening at Lake Mackenzie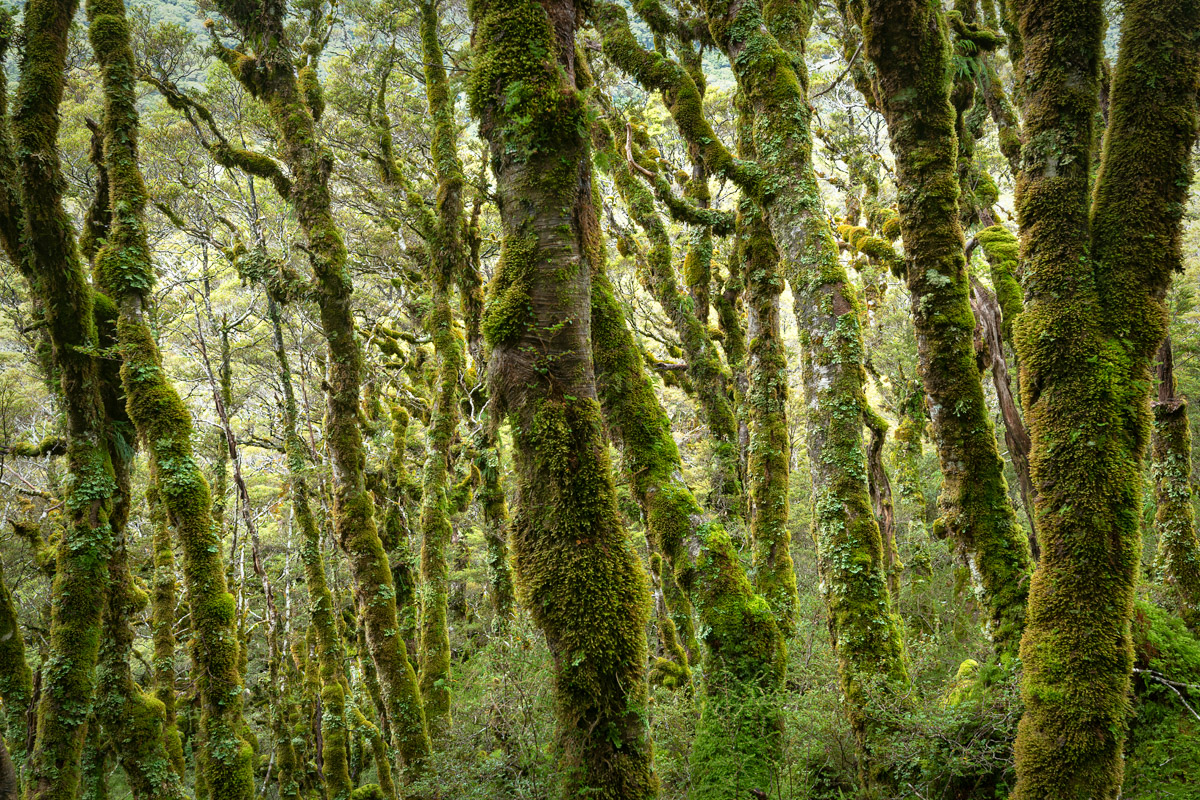 Lush rainforest, captured from the track near Lake Mackenzie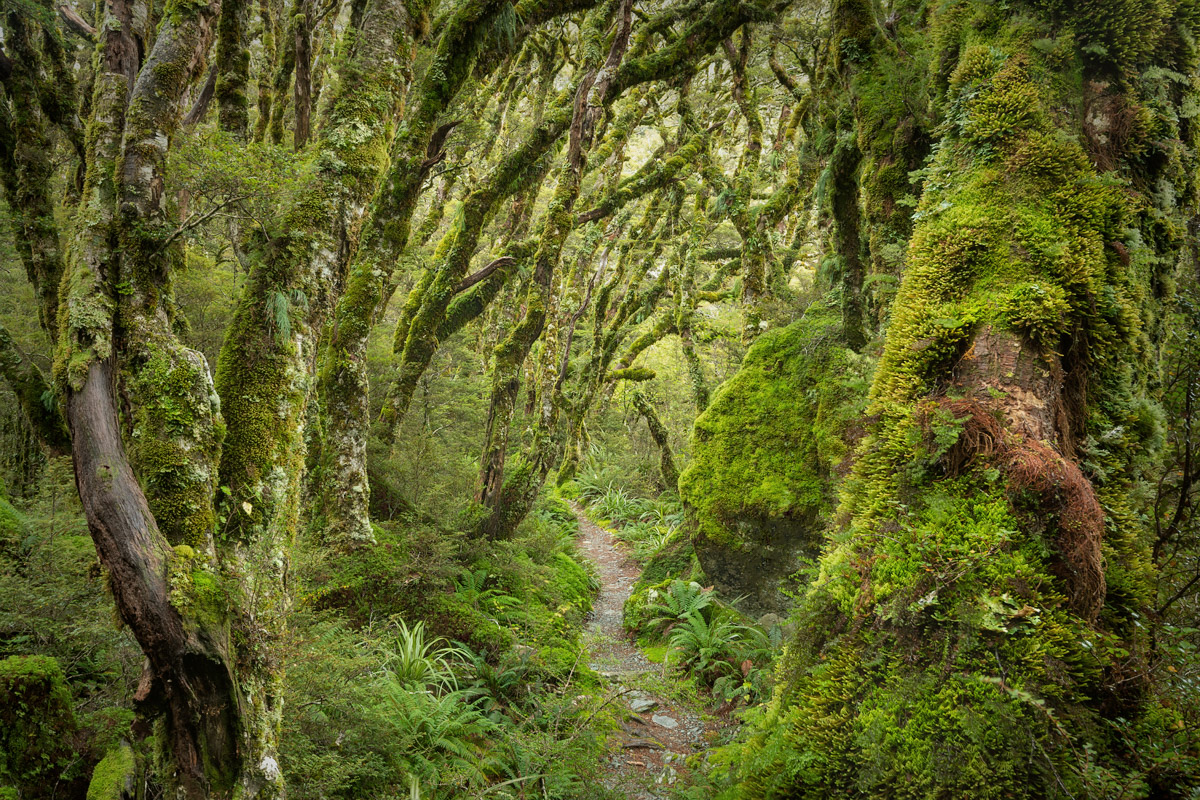 Straight out of Middle Earth
Key Summit, a brief 90 minute detour off the Routeburn Track and well worth the visit (this shot taken in winter 2021)