A Brief Guide to Milford and Doubtful Sounds
Fiordland National Park, which makes up a sizable chunk of the 2.6 million hectare Te Wāhipounamu – South West New Zealand World Heritage Area, is home to 15 named fiords.  Carved by colossal ancient glaciers (therefore more correctly Fjords than Sounds), these wild landscapes have to be experienced first-hand to be believed.
Being the most accessible, Milford Sound / Pioptiotahi and Doubtful Sound / Patea are also the most visited.  Between them both they provide a great cross-section of everything Fiordland has to offer.  For landscape photographers, they are heaven on earth.
Milford Sound / Piopiotahi
Milford Sound / Piopiotahi is the northern-most fiord and the only one which can be accessed directly by road (90 km and approx. 2 hrs drive from the nearest town, Te Anau).  The journey is just as spectacular as the destination, so be sure to allow plenty of time.  And in winter and spring, be sure to check the road conditions before departing, as snow and avalanches do shut the road on occasion.  Scenic flights, most of which operate out of Queenstown (50 minutes one-way), are also a popular way of visiting.
Ye classic shot of Milford Sound, with Mitre Peak (left) and The Lion and Mt Pembroke (right). A 30 second exposure taken on sunset.
A fiery sunset signals the end of an epic day in Fiordland.
Pipis (shellfish) in the waters of Milford Sound / Piopiotahi almost look like stars fallen from the sky
Sheer rock walls rise from the sea at almost impossible angles, climbing to heights of up to 1,800 m.  So spectacular is the place that it led the famous author, Rudyard Kipling, to describe it as the Eighth Wonder of the World.  I've often wonder whether Mr Kipling was actually referring to the rainfall, as on half the days every year the place gets a little damp.  Like 7 metres of rainfall per year damp.  But don't let that put you off, as sheer rock walls + rainfall = dozens of amazing waterfalls.  Or maybe he was referring to the sandflies, which outnumber humans by roughly a bazillion to one.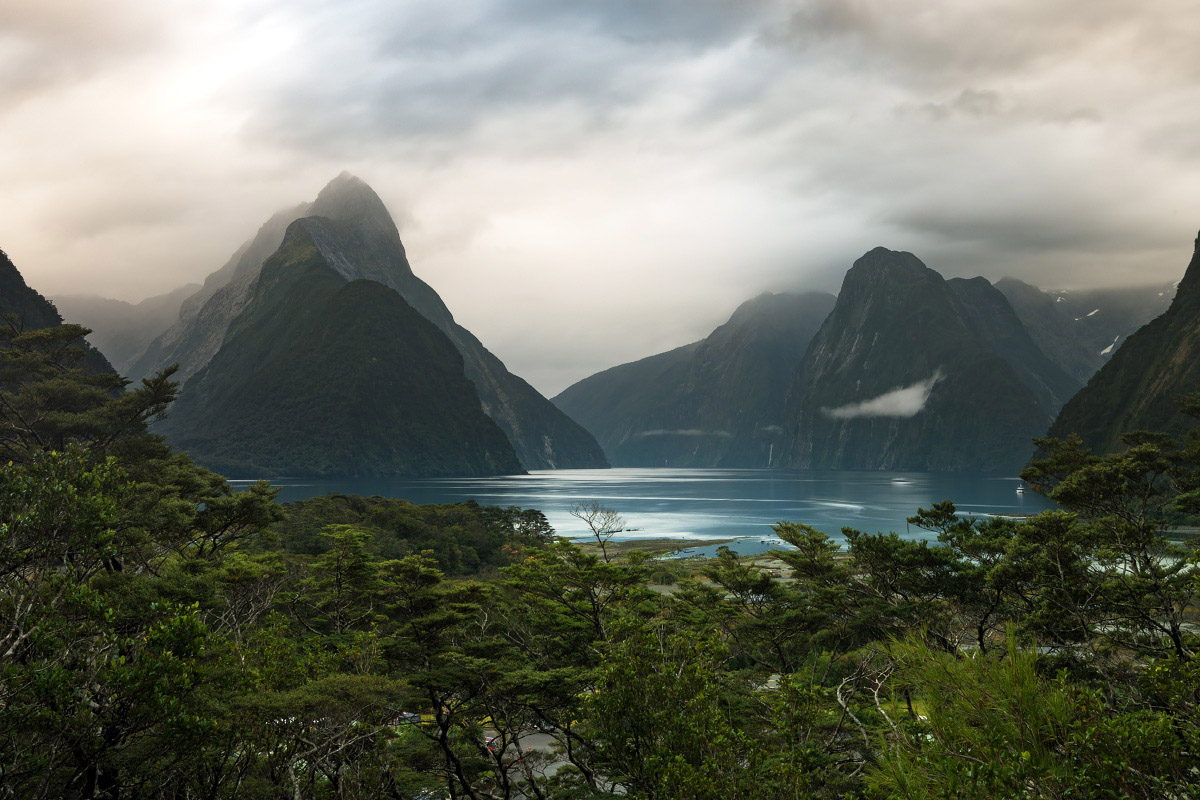 Hidden behind the buildings at Milford Sound is a short walk up to this lookout. It has a great view, although the compositions available are limited.
For photographers, the main area to get that classic shot of the Sound, with Mitre Peak (1683m) and The Lion (1,303m) as the backdrop, is via the nature walk commencing near the main waterfront carpark.  This trail provides access onto the tidal flats at several locations.  With the tidal flats being, er, flat and tidal, the extent of the area covered by seawater varies greatly between high and low tide.  Timing a trip where sunrise or sunset coincides with low tide is preferable, as a lot more foreground interest opens up and there's a greater chance of getting mirror reflections in sheltered pools.  Personally I've always found sunset to have the most rewarding light, with the sun setting behind the mountains.
New Zealand fur seal/kekeno can often be seen sun-bathing on Milford Sound's rocky shore.
Another way to see the Sound is to take a scenic cruise.  Typically taking up to 90 minutes, the journey will take you right under those sheer rock walls (and the occasional waterfall) and all the way out to the Tasman Sea.  Sightings of bottlenose dolphins and seals are common, and if you're lucky, you may see the rare Fiordland Crested Penguin.
Due to its isolation and lack of suitable land, facilities at Milford are fairly limited.  There's only one main accommodation provider in Milford Sound Lodge.  Mitre Peak Lodge is only used by guided walkers on the nearby Milford Track.  The Blue Duck Café provides meals and refreshments during daylight hours.  And best of all, there's no mobile phone reception or wifi!
The base of the 151m high Stirling Falls. Wet you shall be after capturing this scene!
Doubtful Sound / Patea
Doubtful Sound / Patea is accessed firstly via a 45 minute boat trip across Lake Manapouri and then a similar length coach ride on the Wilmot Pass Road between West Arm and Deep Cove.  The only way to explore the Sound once you're there is via boat or kayak, with the operating season being September to May.  Thankfully Real Journeys seamlessly cover all these options.  Much like the Milford Road the journey there is incredible, so have the camera on hand at all times.
If you thought the facilities at Milford Sound were sparse, then Doubtful Sound is a few levels down again.  There's no accommodation, no café, and no wifi: it's just you and the wilderness.  However, rest assured the rainfall and sandflies are on the same level.
Doesn't matter if it's rain or shine, Doubtful Sound / Patea is always a spectacular place to be.
Doubtful Sound is the quieter and more relaxed cousin of Milford.  Although still very dramatic, the landscape is a little gentler, allowing the rainforest to cling onto most slopes down to the water's edge.  It's an incredible experience listening to birdsong delivered over mirror-still waters.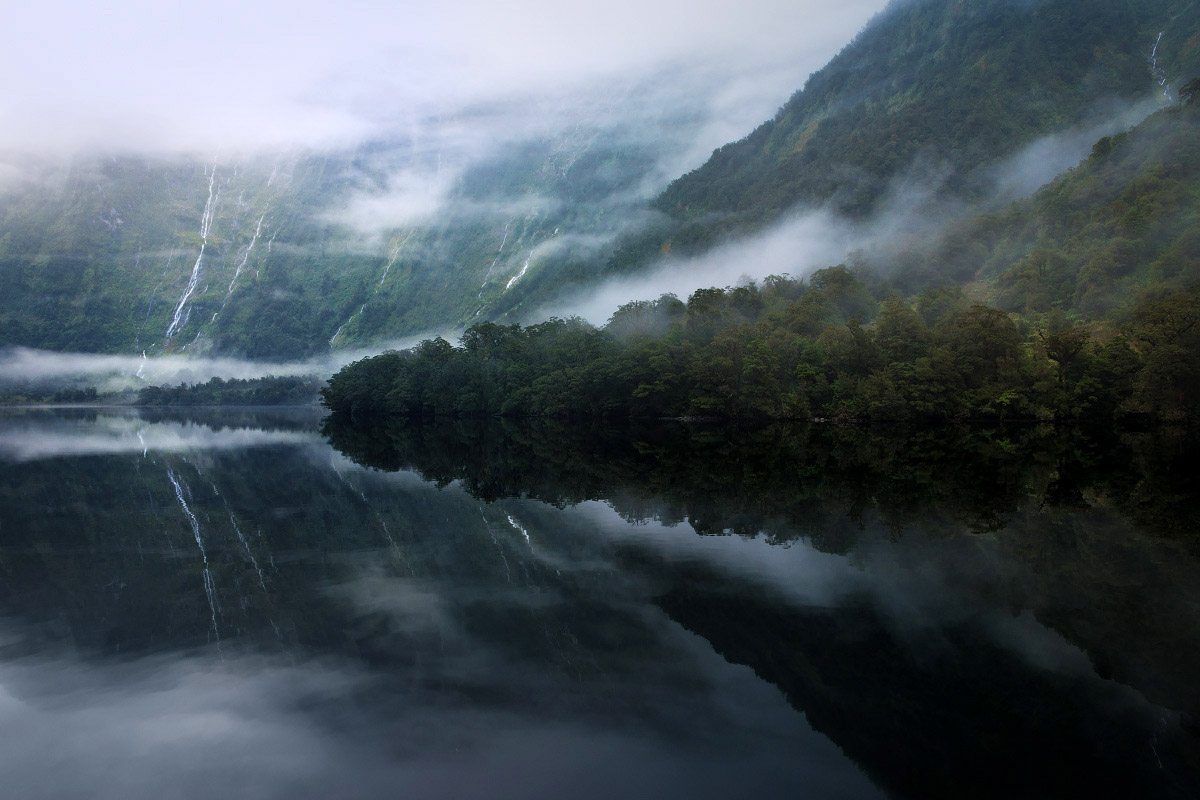 I've been lucky enough to explore Doubtful Sound by both boat and kayak.
Via boat, Real Journeys operate day cruises on the Fiordland Navigator and Patea Explorer.  The Navigator also does an overnight trip (the boat sleeps up to 70 in private cabins or quad-share accommodation), which explores the full length of the Sound (approx. 35 km) all the way out to the Tasman Sea.  As with Milford, bottlenose dolphins and seals are a regular sight.  During the adventure you also get the opportunity to head out on the water via tender boat or kayak.  A magnificent buffet dinner and cooked breakfast is all part of the service!
Exploring the mysteries of Hall Arm, Doubtful Sound
To experience the epic Fiordland wilderness up-close a guided kayak trip is definitely the way to go.  Go Orange operate a range of trips ranging from single day to 7-night epics.  I've been on the overnighter, which spends approximately 5 hours on each of the two days exploring the area around Deep Cove and Hall Arm.  The night is spent in tents under the canopy of luxuriant rainforest, and a communal shelter provides a place to cook dinner and breakfast and share a few laughs with your fellow kayakers.
A little collection of videos taken while cruising and kayaking in Doubtful Sound / Patea.