A Brief Guide to Lake Nerine and Park Pass Glacier
A 5-day tramp through a remote and spectacular corner of Mt Aspiring National Park
I spend a long time poring over topographical maps.  Just the sight of those orange and blue contours climbing tightly bunched towards mountain peaks with their ID'ed elevations can send me into a daze of happiness.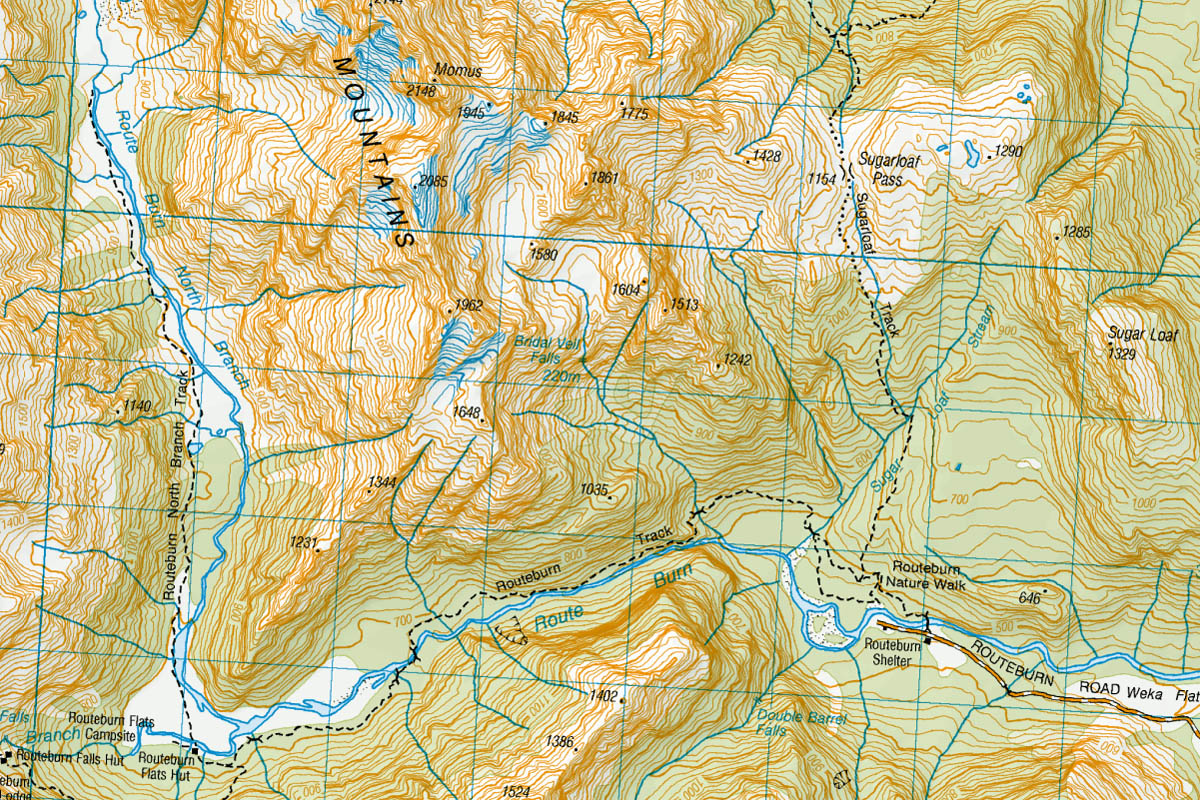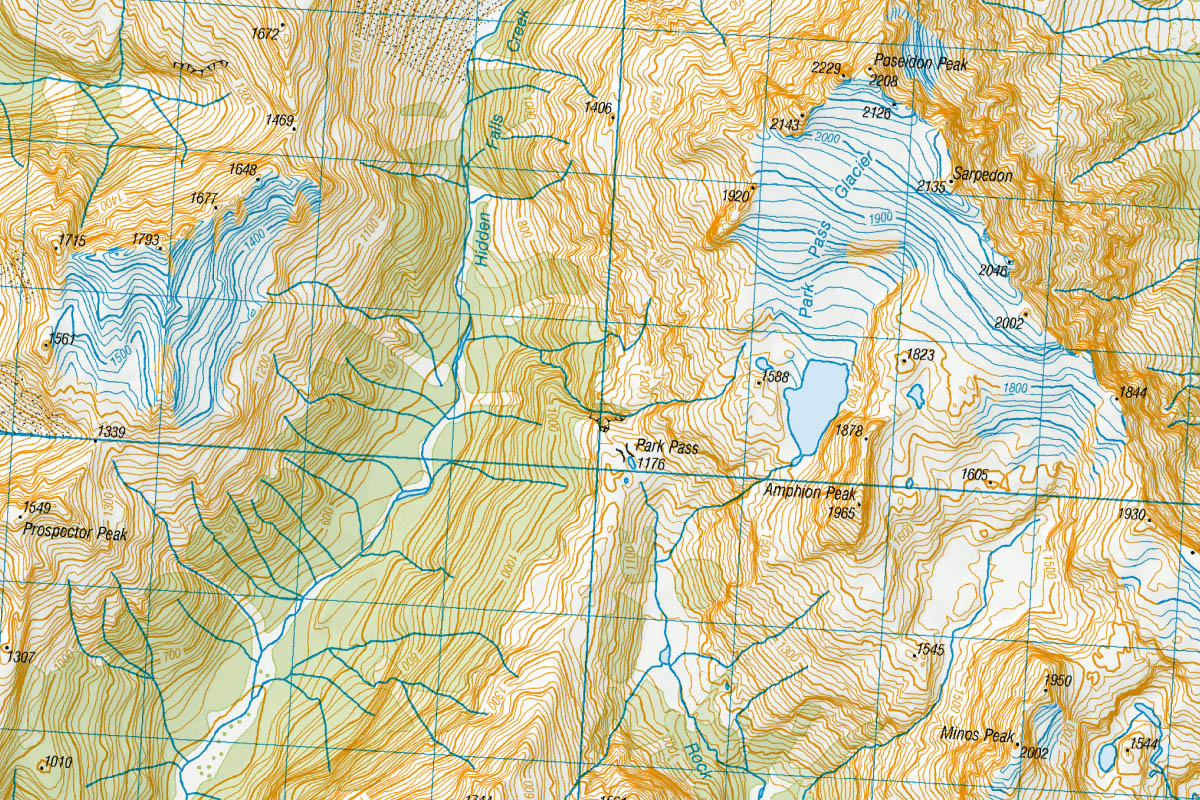 Have you ever encountered anything quite as sexy as these Topo50 maps using the New Zealand Transverse Mercator 2000 projection?
When I walked the Routeburn Track in 2003 I remember looking up the North Branch of the Route Burn, and not being able to see around the first corner, wondering what lay beyond.  After finishing the tramp I dug out the relevant topomap and soon found a large swathe of untracked backcountry filled with glaciated peaks, alpine lakes, and tumbling waterfalls.  I decided there and then I'd have to go take a look one day.  The chance of linking up the North Route Burn with the Rock Burn, and taking in Lake Nerine and Park Pass Glacier along the way, looked like a challenging but achievable option.
But then life – inclusive of two children arriving – got in the way.  Although I managed to get in a number of other tramping trips over subsequent years, the logistics associated with doing a longer trip into a remote and difficult part of the country never quite panned out.
It wasn't until 10 years later, in February 2013, that the stars aligned.  We set off from the Routeburn Shelter over Sugarloaf Pass, and after seven hours on the trail, spent the first night at Theatre Flat.  Three hours into Day 2, as we were approaching Park Pass, my tramping buddy started feeling ill.  After chilling out for a few hours things didn't improve so we decided to call it a day and set up camp.  By the morning of Day 3 things hadn't got any better, and with some significant climbing and arduous days ahead, we made the difficult decision to turn around and make a slow retreat back out the way we came.
Although I told myself I'd come back and attempt this trip again soon, other priorities again took hold and this trip faded into the back of my mind.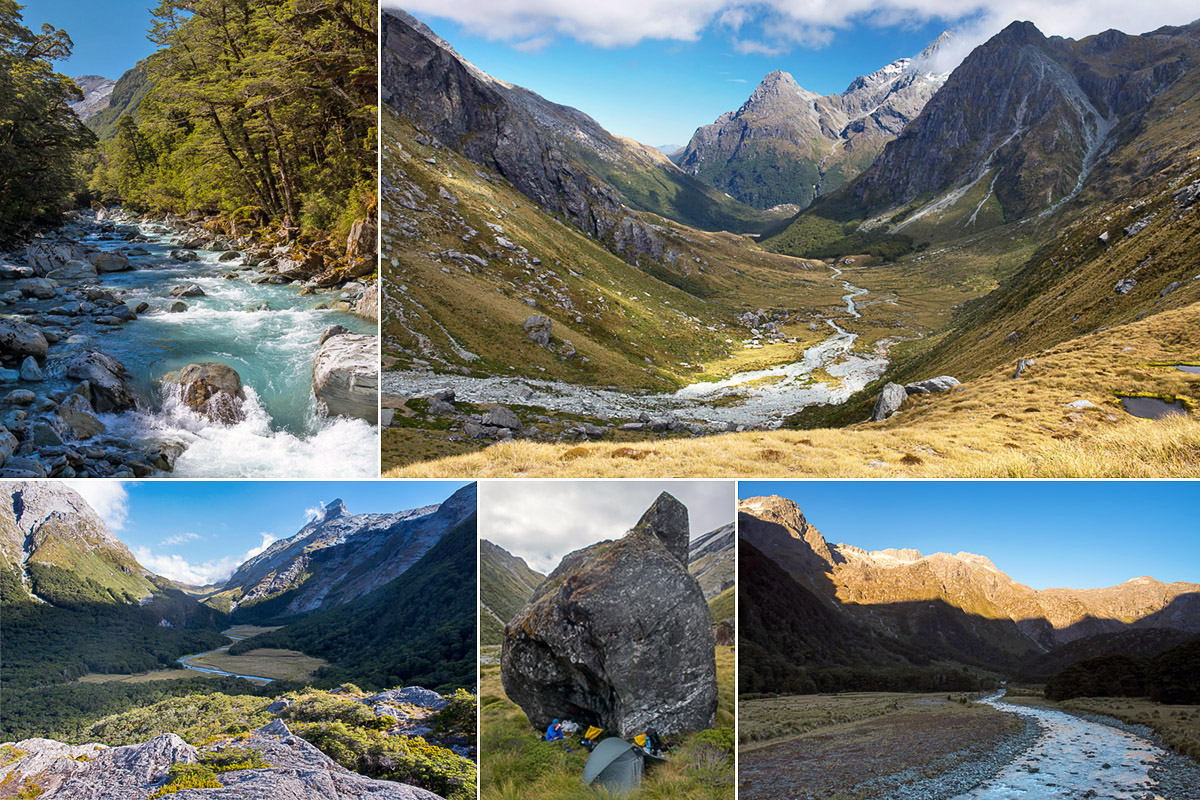 Some snapshots from my 2013 attempt
Eight further years passed.  In early January 2021, following several months of talking through options and planning, Lee Cook and I met in Queenstown and got ready to go.  The plan was to walk it over five days but in the reverse direction from my 2013 attempt.
But then it rained.  Quite a bit.  This isn't the sort of trip for inclement conditions and so with a heavy heart we called it off.  Fortunately we managed to implement a shorter but spectacular Plan B and spent a couple of nights in the Earnslaw Burn (read my brief guide).
This time I wasn't prepared to wait several more years and so we set aside a 10-day window in March 2021.  When I arrived in Queenstown late on the evening of 19th March we couldn't quite believe what the weather forecast was telling us; 10 days of the finest, most settled weather you could possibly ever imagine.  An incredible rarity in this part of New Zealand.  We made the decision to start the next morning.
41 km, 138,000 steps, and 32 hours of walking later we knocked the bastard off.
This tramp ranks among the most spectacular but also most physically demanding I've ever done (I think only beaten by 10 arduous days on the Dusky Track).  The terrain was gnarlier and slower than any topomap at 2o m contours could ever reveal.  Thick scrubby vegetation, river beds with car-sized boulders, and mazes through rock slabs and bluffs regularly slowed our progress.  At times we were making less than 1 km in an hour.  Our +23 kg packs, weighed down by a copious volume of camera gear, probably didn't help either!
If you've read this far and were hoping for a blow-by-blow account of how to complete this trip, I'm sorry, but I'm not going to do that here.  I strongly believe off-track adventures like this need to be researched and experienced for yourself.  This tramp covers some remote and at times inhospitable country so a good level of fitness along with navigation and survival skills are necessary.  If something goes wrong out here – and it can and does happen – there's no help coming for you at short notice.  Always carry a personal locator beacon, first aid kit, and plenty of extra food.  The New Zealand weather can also be highly unpredictable so on a long trip like this you need to be prepared for rain and snow at any time of the year.
I hope these images and videos provide a suitable teaser of the magnificence that awaits.
Our campsite on the gravelly shore of Lake Nerine (1468m)
Lake Nerine (back) and unnamed tarn (front), with Nereus Peak (1962m) catching the first light of the new day
Inversion cloud filling the Rock Burn valley and Wakatipu basin, viewed from near the Lake Nerine outlet
Sunset view towards Park Pass Glacier, framed by Poseidon Peak (left, 2208m) and Amphion Peak (right, 1965m)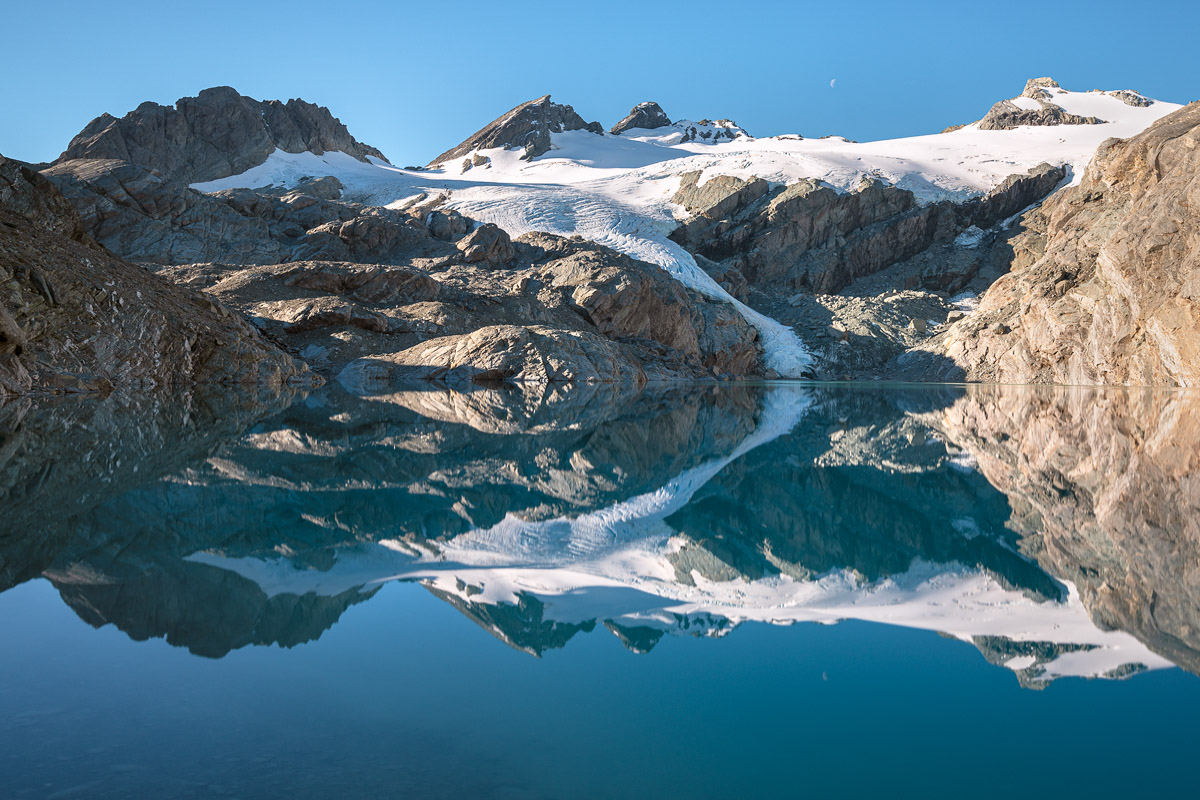 Park Pass Glacier and terminal lake (1,510m), captured soon after we had set up camp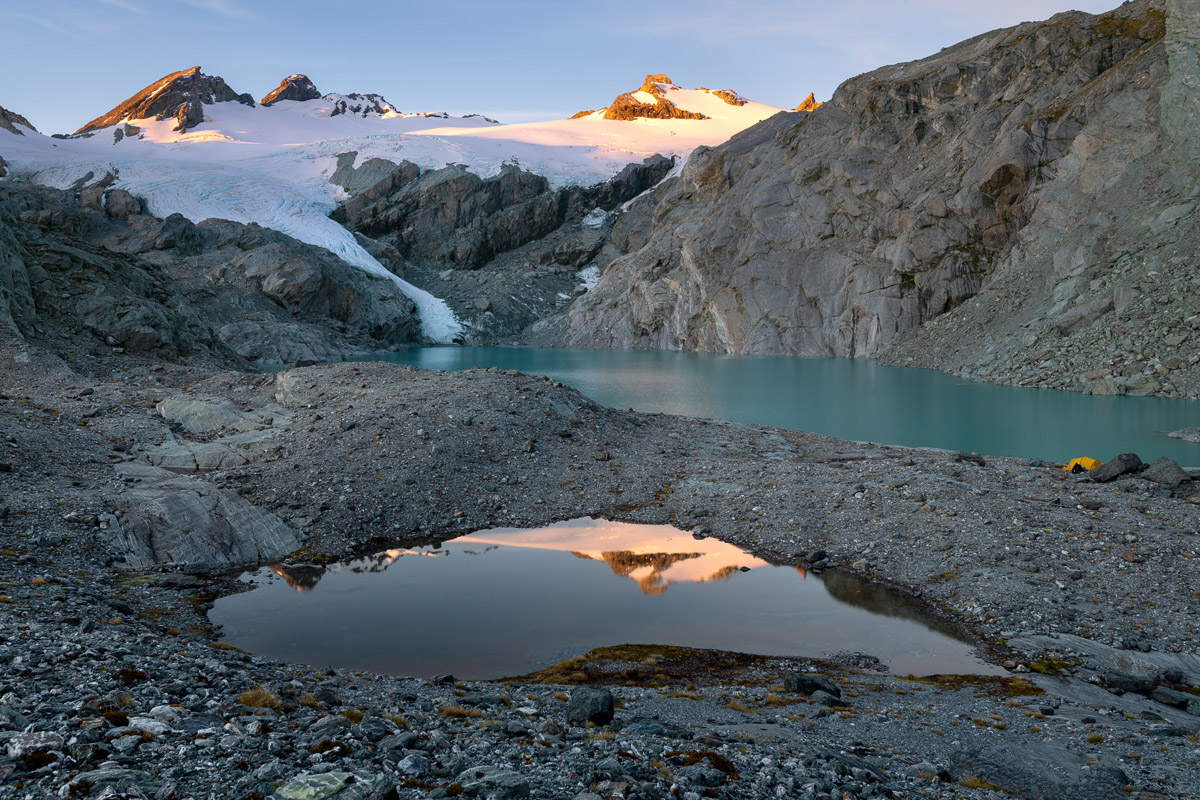 Our camp site at Park Pass Glacier, set among rock slab and moraine rocks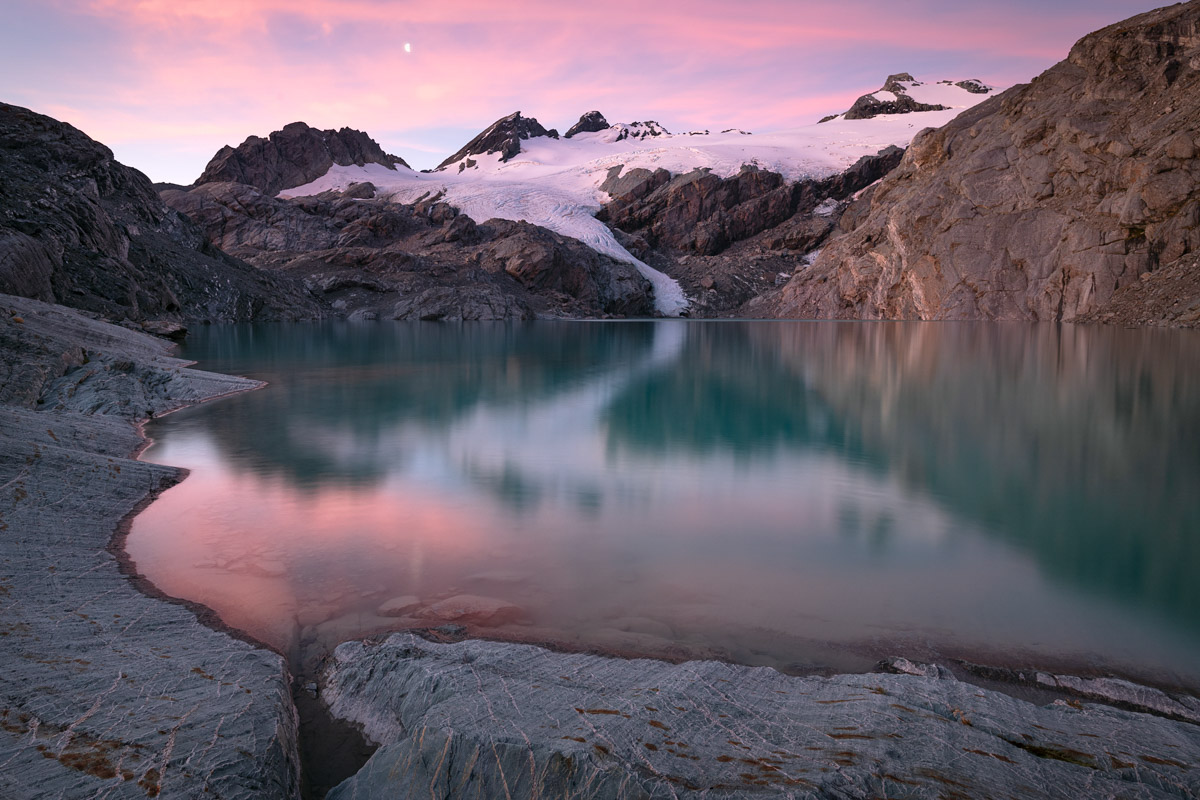 In one direction, the sunset generated some beautiful colour towards Park Pass Glacier
In the other direction, and soon after our arrival, inversion cloud developed and flowed like a river over Park Pass far below
Sunset and dusk was just a little bit spectacular
The evening colour lingered on for a long time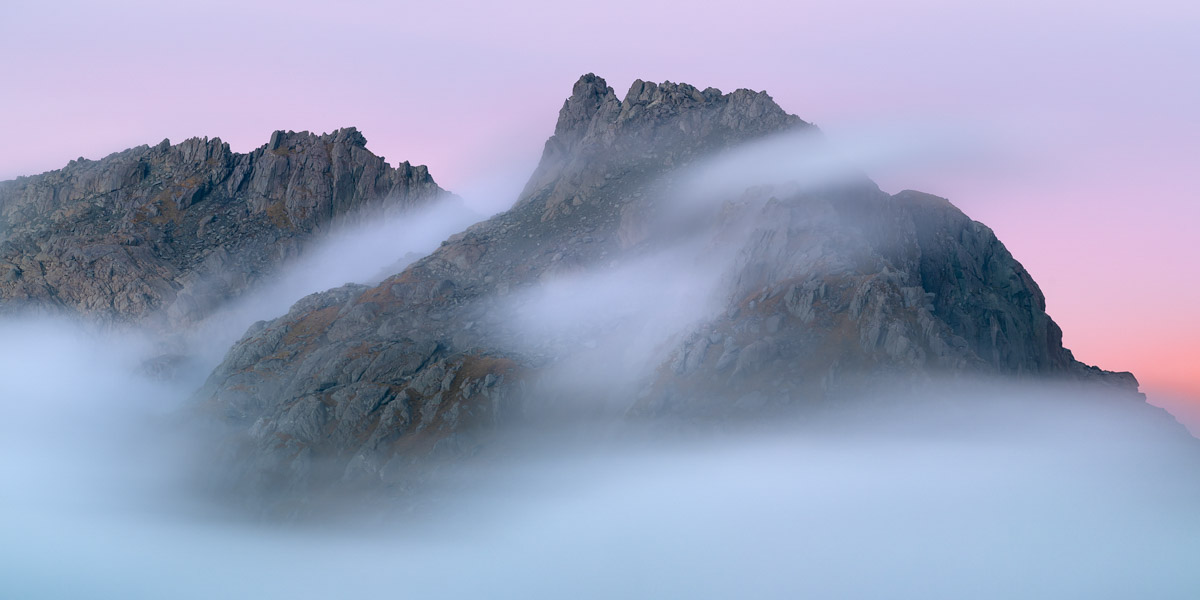 The next morning the inversion cloud was still around, but like all days before it, eventually melted away as the day warmed up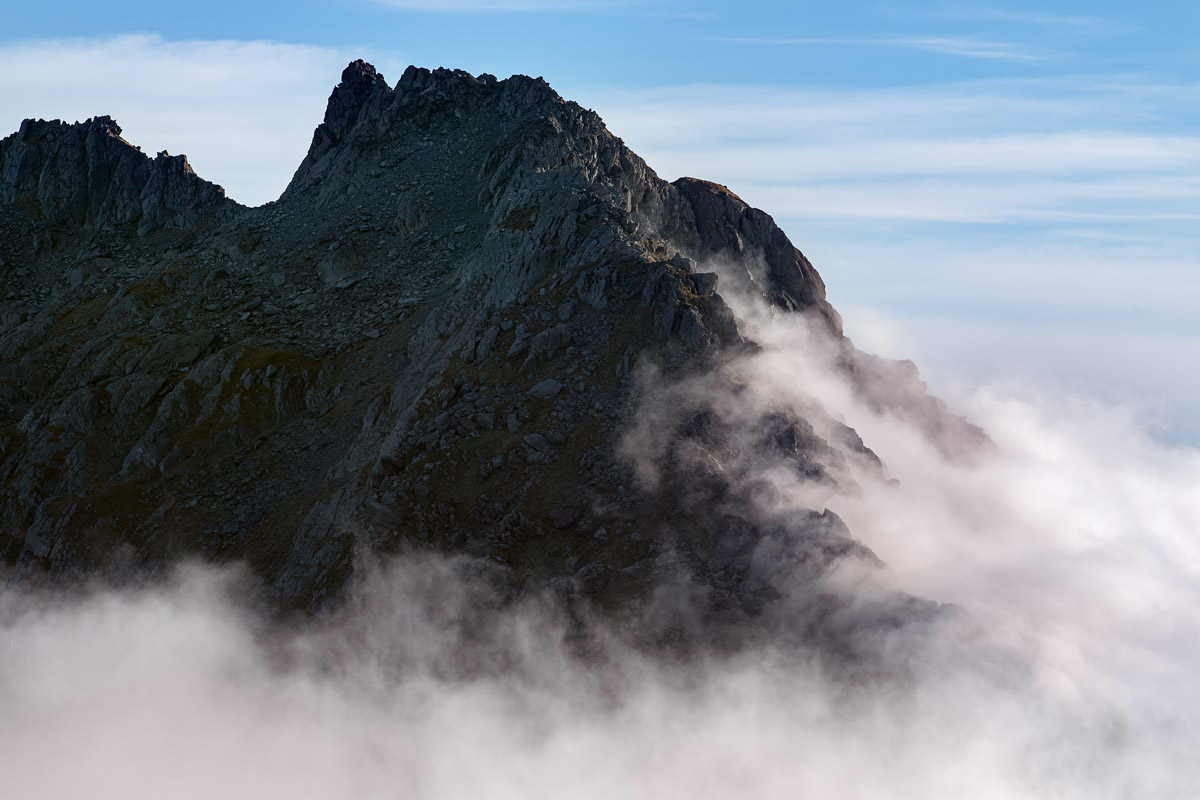 Inversion cloud hugging an unnamed peak near Park Pass
ASPIRING | Part I (8 mins 53 secs)
ASPIRING | Part II (7 mins 22 secs)