A Brief Guide to Lake Adelaide
Remote, wild, and unforgiving, Lake Adelaide is a quintessential slice of Fiordland National Park
I can't exactly remember when I first heard of Lake Adelaide, but it must've been at least twenty years ago. Etched in my mind were scenes of outstanding natural beauty and tales of arduous challenges. I do remember instantly knowing I'd have to get there one day.
Over the subsequent years Lake Adelaide never quite made the priority list. There were a couple of flights where I caught glimpses of a mysterious lake shadowed deep in a glacially carved valley. In April 2019 I stayed the night on Gertrude Saddle, and following sunrise, climbed up to Barrier Knob and saw the lake sparkling nearly one kilometre below.  It looked tantalising close yet so far out of reach.  I resolved to get there soon.
The Lake Adelaide basin, captured from near Barrier Knob at around 1,800m elevation (April 2019); Lake South America, which we camped beside on night #2, is tucked down below the bluffs on the bottom-left
Sunday 2nd January 2022.  After stocking up on supplies in Te Anau, Lee Cook and I jumped in the car and made our way north towards Fiordland. The small carpark at start of the track is only a few hundred metres shy of the end of the Lower Hollyford Road. Immediately a swingbridge leads over the roaring Hollyford River, followed around 25 minutes later by a three-wire bridge over Moraine Creek. From there, the challenge well and truly begins.
A word of advice: don't trust the topomap.  As the kea flies, from the Lower Hollyford Road to the edge of Lake Adelaide is under 6 kilometres. That journey took us the best part of 10 hours.
The first three or so hours to Tent Flat is described by the Department of Conservation as "maintained" track.  That's probably a little kind. This section climbs steeply out of the Hollyford Valley and follows the cascading Moraine Creek. It's a classic Fiordland mix of forest and tree roots, boulders, rock gullies, stream beds, and mud. Although marked and reasonably easy to follow, it's occasionally overgrown (and becoming more so). I've heard stories this section has at times been covered in tree fall and in a bad state of repair. Thankfully we struck it lucky as it looked to have been cleared in the last year or so.
It was a delight to see and hear plentiful kaka, tui, and kereru. Not so delightful was ongaonga, New Zealand's endemic poisonous tree nettle. It's mostly located in and adjacent to streams and open areas; you'll certainly know about it when you run into it.
Tent Flat is a misnomer.  Flat – yes; a place for pitching a tent, no. It's a vast bogland where muddy water spilling into your boots is an inevitability. That said, there are a couple of potential campsites on drier spots towards the forest edge.  We, however, were pushing on.
Video highlights from 4 days in and around Lake Adelaide
At the end of Tent Flat a marked track returns to the forest, but it doesn't take long before it becomes difficult to follow. Tree fall, overgrowth and river erosion has knocked out a few sections. Eventually any sense of a track disappears altogether. Broadly the route through this area sticks in or close to stream beds, gradually climbing out of the forest and towards the 400m high cliffs sitting below Korako Glacier. Dense scrub makes the going very slow in places; we were forced to take several frustrating detours and backtracks, probably adding at least an hour to our walking time.
At around the 1,000m contour – about 8 hours in for us at that point – the route reaches the vast landslide which created Lake Adelaide. Some of the numbers associated with this rockfall, generated by a significant earthquake event over 6,000 years ago, are truly mind-boggling: 750 million cubic metres of mountain collapsed into the valley creating a pile of boulders covering 4.5 square kilometres and up to 400m deep. (Check out first image above, it's a very visible feature.) If you're interested in more of the geology, check out this article from GNS Science.
Many of the landslide boulders are car sized, some are bigger than houses. Seemingly bottomless crevasses abound. There's no avoiding crossing the landslide and again the going is slow. That said, we found out the hard way there are faster paths than others. My recommendation is to keep as west and high as possible – stay west of points 1091 and 1063 and stick as close to the bluffs as possible.
Our 10-hour day saw us arrive at the lake shore, thoroughly exhausted and under fading daylight, at around 9.00pm. Finding a flat and dry spot to pitch the tent proved to be an unexpectedly difficult task, but after 30 minutes or so we finally found a postage stamp sized spot beside a tarn.  A couple of photos, a quick dinner, and we collapsed into our sleeping bags. We set the alarm for 5.15am to catch sunrise; it was a bit of a fizzer photography-wise, but seeing the lake so calm and reflective was incredible.
Campsite #1, around 10 minutes walk from the shore of Lake Adelaide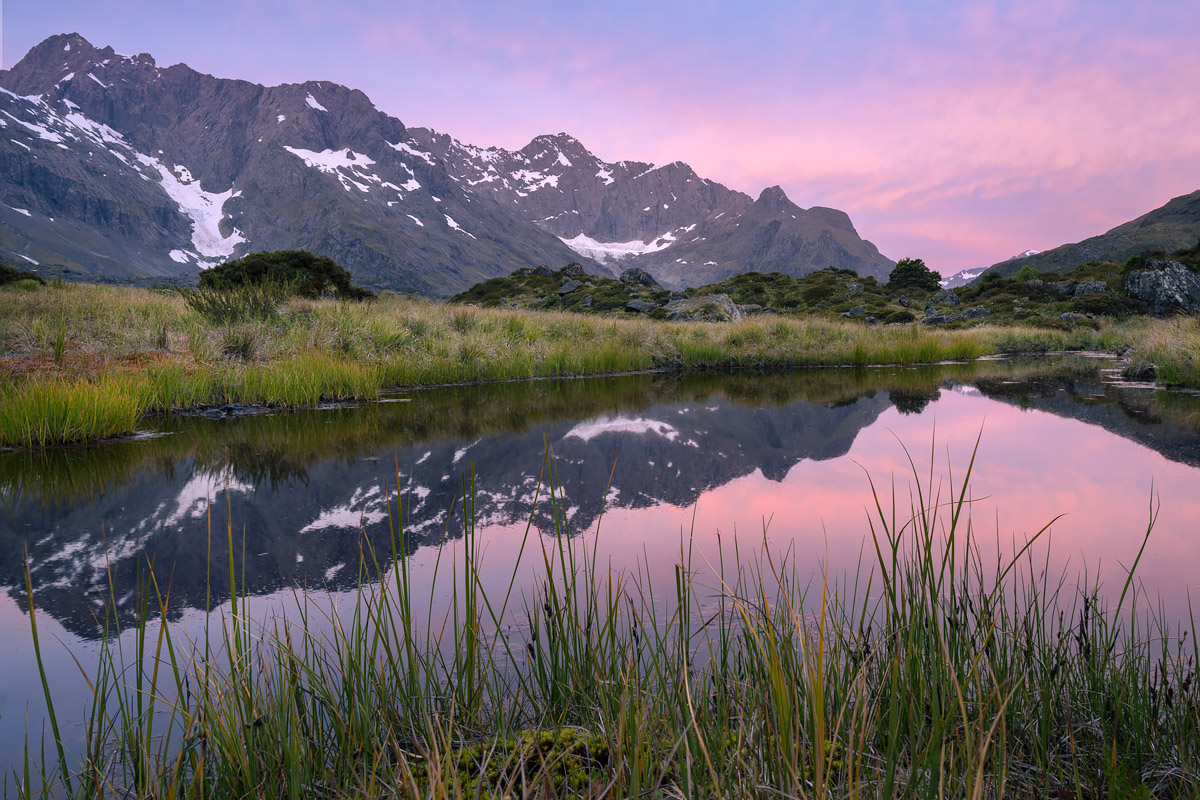 After a dull and grey (but very warm) day the sunset colour came as an unexpected surprise (click image to purchase print)
Looking towards the dominating dome of Sabre Peak (2,162m) at the head of Lake Adelaide
We then made our way towards our next campsite at Lake South America, which is located in the cirque basin at the head of Lake Adelaide. The route crosses some precipitous bluffs which are a bit of a maze at times, but between the steep drop-offs there are some tussocky platforms to navigate. Thankfully our walk time was only a couple of hours, which gave us the chance to have an afternoon siesta. Meanwhile, valley cloud rolled in and out, regularly immersing us in zero visibility and keeping the photography conditions fairly challenging.
Traversing the bluffs above the western shore of the lake
The head of Lake Adelaide features numerous rock bivouacs; Gill's Biv, featured here, sleeps around 8 people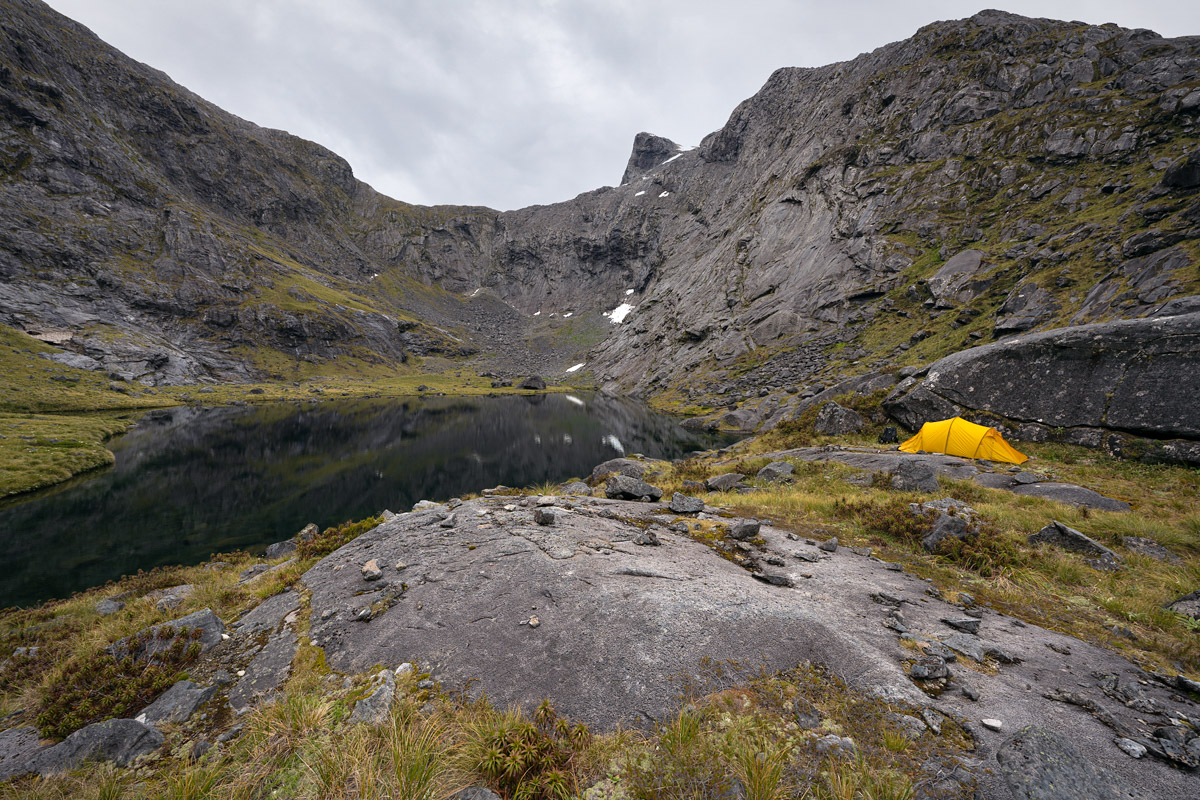 Campsite #2 overlooking Lake South America
Tarns and ponds are sprinkled throughout the landscape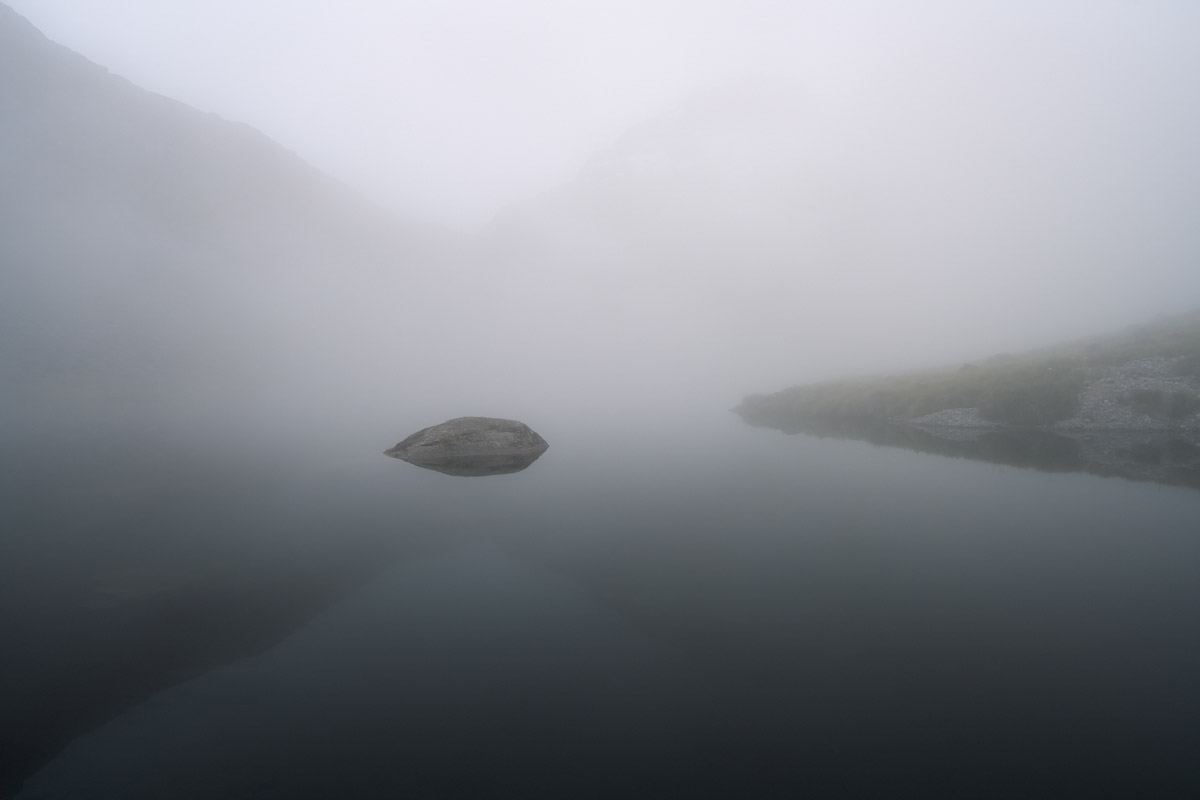 At times the valley fog made for some interesting photography opportunities
Looking across Lake South America towards our campsite
Days 3 and 4 were spent returning the way we came. However, this time we pushed on a little further on day 3 to make the last day more manageable, with our final campsite being near point 1091. We used the evening to clamber through the boulder field and get another look at Lake Adelaide. There are alternative ways out of the Lake Adelaide basin but they're not for the faint-hearted. Most routes require specialist climbing equipment and skills.
After a mostly grey and overcast trip, Lee and I whooped with delight when a brief show of colour made an appearance on our final night
We were befriended by several kea on the trip; they were cute for a while but eventually outstayed their welcome when they started dismantling our campsite and getting into our food! (click image to purchase print)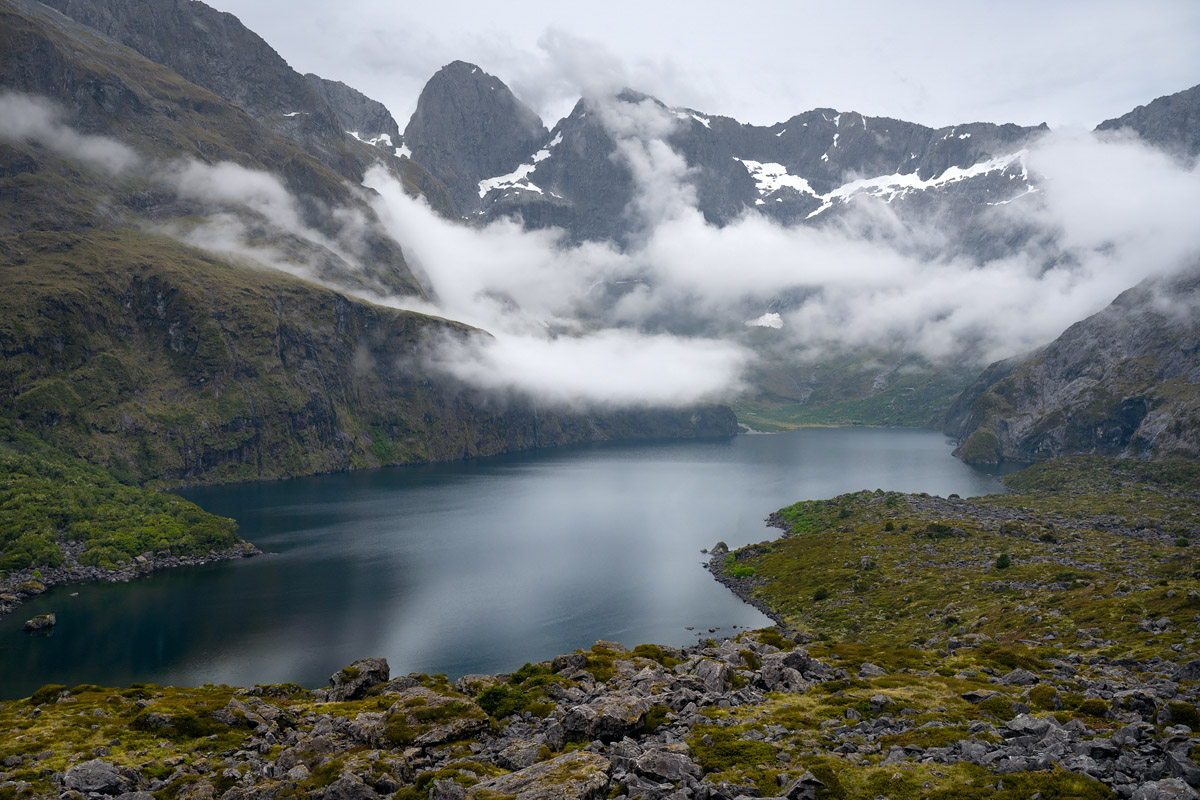 Our final view of Lake Adelaide, taken somewhere in the boulder field east of point 1063
Overall, if tramps were rated by the number of expletives used, then this trip would rank as one of the most physically and mentally demanding I've ever done. Our heavy packs laden with photography gear certainly didn't help; I'm sure others could improve on our times with a lighter setup.
But in spite of all that, it's also one of the most stunning and untouched landscapes I've had the pleasure of visiting and the entire experience was incredibly rewarding. Getting off-track in Fiordland is never going to be an easy thing, but for those with an adventurous and persevering spirit, some truly magnificent experiences await.
Planning on doing this tramp?  Fire away with any questions!